Introduction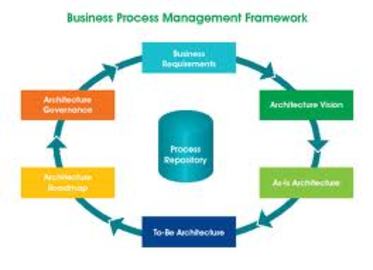 Business process management refers to a systematic approach in making an organization's workflow more effective, efficient and capable of adapting to an ever-changing environment. The main focus of business process management is to reduce human errors and miscommunications and to focus stakeholders on the requirements of their roles. It comprises as a series or network of value added activities, which is performed by their collaborators or relevant roles so as to achieve business goals. There are different kinds of business process management frameworks which are available in the market today and are stated as under:
Horizontal BPM frameworks.
Vertical BPM frameworks.
Full-service BPM suites.
Step 1
As a general factor BPM tool allows users to:
Vision
Define
Model
Analyze
Improve
Control
Re-engineering
As a general factor business process management works on the following principles and functions:
Define
Model
Simulate
Deploy
Execute
Monitor
Analyze
Optimize
These innovative steps provide, your organization business processes provide the goal of improving agility and good and high level operational business performance. There are many software's which are supporting up business process managements too. Two other main types of BPM software's are Mobile BPM along with Social BPM too they are using high integrated techniques and methods which are building up excellent BPM management.
Step 2
There are certain criteria are which you can follow up in order to develop up a good business process management cycle which is as under:
1. Choose a project that can change something and bring a difference:
It refers to a thing that the project you are currently working in should be the one no one has worked out and it should bring certain change in the environment of users.
2. Availability of Senior Management:
This indicates that the staff you are hiring should be professionals because any management can gain success only when it is surrounded by a people of professionals.
3. Team Structure :
You must acquire people who are knowledgeable and have a keen domain of end to view of their entire processes.
4. Plan for the Real World :
The requirements which you acquire from the start till the end should be subjected as it should not be developed after you have planned everything it should be planned before time.
5. Paralysis Vs. Analysis Avoiding :
While analyzing the current process, drill down further and further to describe it in more detail so at to avoid any enemy that kills your work.
6. Using an Iterative Delivery Approach :
Deliver the new process with an iteratively in a succession of builds, at each iteration the business developers can review that what is being built with the current context.
7. Control Exceptions and Control :
Avoid to deliver everything in the first project and to stick on a strict schedule so that if it is not delivered in the first session it should be delivered in the next session.
8. Plan for integration, reports ,interface :
Develop integration and reports so that your delivery to cover these aspects should be proper.
9. What's Achieved :
After your delivery of new project achieve what you have got.
10. Evangelize your success :
Advertise what you have achieved so as to drive your awareness and acceptance.
Step 3
In order to achieve and retain a good business process management one should follow the below mention processes to retain a good and classy business.
Tips
Sources and Citations
Comments
Most Recent Articles
Basics Of Business Process Management

The key to the effectiveness and success of any business or profession is its processes. These procedures are those activities or stages which must take place at an early time in order to ac...