Introduction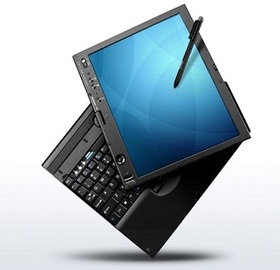 The last five years have really been a turning point for PC computers. It all started with the Desktop computers then came the Laptops, the tablet, the notebook and now a combination of all of that, the new PC Tablet Laptops. To stay in the game a lot companies have released their own versions of PC Tablet Laptops although the pioneers of the PC tablet laptops was Alan Kay's Dynabook. The most prominent feature about these laptops is that they are convertible meaning you can twist and turn the screen and make it into a tablet mode. It is amazing because now you do not have to buy a tablet, a notebook and a laptop separately when you can have all of that in one place.
Step 1
Although a lot of companies have released their own versions of PC Tablet Laptops perhaps the best PC Tablet Laptop out there in the market is the Toshiba Portege M200 Tablet PC. Not only is it very portable and light, it also has a very unique and stylish design which does not make it look like too much is happening on the keyboard. It is simple and easy which makes it very convenient to use. It is equipped with everything from WLAN, Bluetooth and two USB ports. This PC Tablet Laptop also comes with a DVD/ CD-RW drive. Another great feature about this PC Tablet Laptop is that its screen can be twisted to turn it into a tablet. Since it is a touch laptop you can use a Digital pen over it for your convenience. It is great for note-taking.
Step 2
Apart from Toshiba Portege M200 Tablet PC, there are many PC Tablet Laptops that are available in the market. Many of them have voice recognition and handwriting recognition in them. The voice recognition is great for security reasons as only you would be able to use your laptop. Accelerometer is another great feature that comes in PC Tablet Laptops. It changes the direction of the screen by detecting the position it is facing you at the moment. This makes it very user friendly as you can tilt it to any position and use it even while you are lying down. Even the touch screens are of different kinds for example some are touch sensitive while others are pressure sensitive. The pressure sensitive ones are ideal for writing Japanese and Chinese characters.
Tips
Although these PC Tablet Laptops are great even they have some negative aspects. Some of them are way too pricey for the features they offer and not at all worth it. Many of them have very slow and outdated out dated system. The ones that have the new Operating Systems are very expensive and not at all affordable. The touch system is another concern. Some PC Tablet Laptops' touch system is not that responsive but it really depends upon the company and the kind of laptop you are buying. You need to handle it very carefully because one bad fall or one drop of water can be annihilating for them.
Comments