Introduction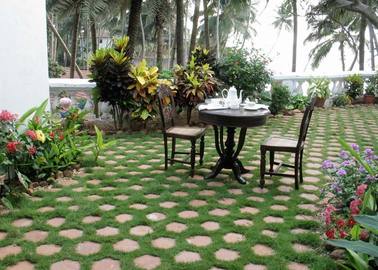 Creating a home garden patio is more complex than simply sticking with a plain, hard-surface pation that doesn't have any plants or greenery. When you are done with the project, you will discover you have created an amazing oasis that is ideal for relaxation and outdoor enjoyment. If you live in an urban area, a home garden patio may be the only option you have for growing flowers, vegetables and other greenery. On a larger property, the home garden patio serves as a garden room within your overall landscaping design. You don't need to be an expert gardener to create your own garden space on the patio. A few simple tactics will help you make a space that looks and feels fresh and comfortable.
Step 1
Identify the climate area where your home is located so that you can grow plants specific to that region. Lemon trees and warm-weather vegetables will fail in colder climates, for example. Give your home garden patio a chance to thrive with suitable selections. Next, identify the type of plants you want to feature. If your goal is to produce food, choose a selection of tomatoes, peppers and herbs that have elegant foliage and yield plenty of edible fruits. Another goal might be to make a colorful area with lots of visual appeal. In that case, choose flower plants that produce brilliant blooms throughout the season. One way to combine the two goals is to focus on edible flowers. Nasturtiums, borage and pansies make a delightful, edible addition to any home garden patio.
Step 2
Increase you chances of success by growing most of the plants on your home garden patio in containers. This gives you control over the quality of soil, the volume of water and how you conduct pest management. It also gives you the opportunity to make a statement with bright-colored containers, neutral colors, or simple hand-painted designs. Organize the placement of the containers and flower pots so that they receive sufficient sunlight for the plants to grow well. If you have good sun exposure, it's possible to surround the entire patio with containers of uniform size to create a sense of privacy. You may separate your home garden patio from nearby neighbors by growing vines on a trellis in containers placed between your individual properties. Another type of screening is to place a row of evergreen shrubs in large pots along the side of your patio.
Step 3
Enhance you home garden patio with accessories and outdoor furniture. When you have created a beautiful outdoor garden, you'll want to take full advantage of all its ambiance. A couple of fold-up lounge chairs may be all that you want in that space. But if your whole family is going to be using the small home garden, consider placing a table and chairs on the patio. A home garden patio provides extra space for entertaining in good weather, so keep several portable chairs available to increase the seating space when you have guests. Extend the hours your garden patio is useful by adding a string of lights to the railing or place a collection of candles in an area protected from the wind. Tiki lanterns can be inserted into plant containers, adding a festive glow for after-dark parties.
Tips
Keep your plants well watered and fertilized to ensure the shrubs, flowers and vegetables on your home garden patio maintain lush, green growth.
Sources and Citations
University of Illinois: Successful Container Gardens
http://urbanext.illinois.edu/containergardening/
Comments
Most Recent Articles