Choosing Outdoor Furniture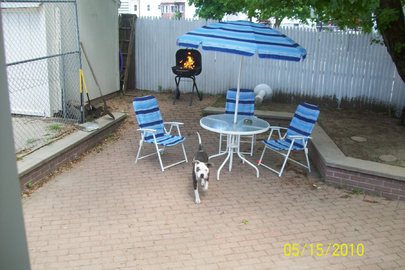 Choosing home garden furniture is a fun thing to do. You can choose any style you like, it does not have to match the inside of the home, it can be something totally different. Some people choose something bright and fun, while others like neutral tones. In warm weather months you can make your yard into an extra room. Relaxing in the yard on a summer evening after a long day at work is a wonderful way to give yourself a mini vacation.
Step 1
Determine where in the yard you intend to put your home garden furniture seating areas. It is fine to have more than one. For example you may want a dining area and another seating area for those wishing to sit and talk.
Step 2
Think about the pieces you would like for your home garden furniture. Generally if you enjoy outdoor cooking, you will want a table and seats for eating. It is also a good idea to have a couple of lounge chairs for relaxing in the sun. An umbrella for the dining table and perhaps another for those who wish to get out of the sun is a good idea. One or two side tables to place next to the lounge chairs for drinks is a nice touch.
Step 3
Check out some outdoor furniture online to get some ideas. There are many styles to choose from. You will see wood, wrought iron, plastic, fabric and other combinations. Generally plastic is the least expensive, it also the least attractive option.
Step 4
Visit stores that sell this type of furniture to make your selections. Sit in the chairs to be sure they are comfortable. If the furniture you are looking at does not come with cushions, you will want to buy some. It may actually be less expensive in the long run to buy furniture that already comes with cushions. Check for sturdiness of the furniture before buying. Are nuts and bolts tight and secure, is binding and stitching sturdy and even?
Step 5
Buy the best that your budget allows. With proper care a good set of home garden furniture should last for many years. If you buy the cheapest home garden furniture set, you will get what you pay for and will most likely be buying another home garden furniture set next year. While had you bought a better quality set, you could have used it for many more years, which in the long run, makes it less expensive.
Tips
Once you get your home garden furniture home and set it up, relax and enjoy it. Invite friends and family over for a barbecue, great weather, good food and good friends make for a perfect summer weekend. Once the season is over it is a good idea to clean your home garden furniture well, use warm water and mild soap. Allow it to try after washing and then store it for the winter. Before storing check seams for rips and be sure nuts and bolts are tight. A basement or shed is the best place. If storage is not possible, covering the items is the next best thing. Next spring a quick rinse to remove dust is all that will be needed and your home garden furniture will be ready for another season.
Sources and Citations
Comments
Most Recent Articles
Decorative Home Landscaping Tips

Turn the plain landscaping around your home into an attractive, comfortable garden. Not only will you have a beautiful place to live, but you'll increase your home value. It may seem easy to...

Garden Home - Furniture And Plants

A garden home is the dream of many green thumbs. People who enjoy growing things and reaping the benefits of the plants they grow often tend to live in a garden home. The furniture and plant...