Introduction
Niagara Falls is the premier destination for families and honeymooners. The remarkable falls are the most attractive tourist destination around the globe, known for its enthralling and mesmerizing experience. It keeps the holiday makers absorbed totally and wholly in the flow of nature. Niagara Falls hotels are world famous for their ambience and they always have something different to offer. It's like a complete family vacation package where your pet cats and dogs can accompany you too.
History
The words "Niagara Falls" originated from an Iroquois Indian word Ongniaahra which means "thunders of water." The Niagara Falls is basically a combination of three major falls which include Horseshoe Falls, Americans Falls and Bridal Veil Falls. This beautiful place is at the border of New York State and Canada. In the 17th century the Ongiara people resided this place which was later inhabited by Europeans in 1800. There are many popular sights for you in the vicinity which includes Seneca Casino, Maid of Mist tours and Old Fort Niagara. Some of the Niagara Falls Hotels allow holidaymakers to bring in their pets for a vacation and change too.
Features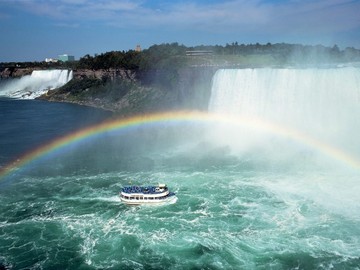 The Falls hotels have some pre-requisites that are to be taken care of before bringing your pets in these hotels. Firstly an authentic certificate that claims that your pet is vaccinated for Rabies is important for holidaymakers coming to Canada from United States. Cats and Dogs need a birth certificate which says states that they are vaccinated if they are three years or older, however, if they are younger than three then it isn't necessarily required that a veteran certificate be carried along. Quality and Suite Falls hotels is situated a block away towards the Canadian border and one block from Seneca Niagara Casino. The fee for pets per night is $20. It offers amenities such gift shop, cigar shop and heated swimming pools. Comfort Inn Hotel is located a few minutes away from the Niagara area of shopping and Darien Lake theme park. The pet fee per night amounts up to $10 per night. Facilities here include fitness center, continental breakfast and high speed internet. Peninsula Inn and Resort give you access to amenities such as video arcade, gym and outdoor children's playground. Pets that weigh almost 20 pounds are allowed here and stay fee for every night is about $10. Best Western Summit Inn is in the middle of Niagara shopping area. The pet fee is $ 8 per pet per day.
Tips and comments
Currency information is readily available at many visitor information centers now. There are many tour operators here who keep updating the tourist questions and help you with answering your queries. If you purchase a players advantage card at Casino Niagara it will assist you a great deal in getting special discounts and offers based on your performance in the play. Those who have disabilities are also accommodated with wheelchairs that can be found here at Floral Show house and Table rock center. Buses are available to the fall from your hotel every day. Falls hotels are worth visiting at least once in a lifetime.
Comments
Most Recent Articles
Discover Great Deals For Hotels Falls

Vacations are that time of the year when everyone is looking for a nice package at Hotel Falls for himself and his family where he can spend some quality time outside his home and find himse...