Introduction
Bathing in spas is something that we humans have been doing for thousands of years. We are familiar with the Romans and how they would construct baths even in places that did not have natural springs nearby. In many cultures the water of certain locations is associated with purification and healing. In India the water of the Ganges is considered to be holy and bathing in the Ganges River is associated in Hinduism with cleansing of the soul. A spa resort is an excellent way to get healthy and back in shape if you have let yourself go over the years. Alternatively there are other resorts which focus less on getting you to lose weight and more on rest and relaxation.
History
In our modern times we don't associate spas so much with spirituality, but there is still a strong association of spas and spa resorts with healing and relaxation. Many times our health is affected by stress from work and family pressures and going to a spa resort is a great way to unwind and repair. Spas made a comeback in Western Europe after there was a cholera epidemic in the UK during mid 19th century and it was realised that increasing cleanliness and hygiene could reduce the severity of the disease. This realisation led to the British parliament enacting the Baths and Wash-houses Acts 1846 to 1896 which facilitated the building of baths throughout the country. In the United Kingdom one of the most famous spa towns which has a long tradition of spa resort is Royal Tunbridge Wells. The King and Queens of England used to frequent this town as the hot springs of Tunbridge were considered as being able to cure many ailments.
Features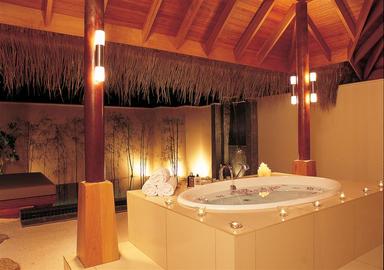 The best resort spa for you will largely depend on what it that suits your needs and your budget. Destination spas are the most popular kind of spa experience for tourists. Most spa resort will have different packages that they offer mostly differ on the length of the stay. Most spa resorts offer week long spa treatment and wellness programs which have comprehensive exercise, diet, massage, seminars and much more. Some of the world's best spa resorts are in the German city of Baden-Baden. Caracalla Spa is one of the best spas in the city of Baden-Baden. This spa resort features hot water from 12 natural springs. The Caracalla spa resort is a most luxurious place with beautiful turquoise tiled pools, a marine climate room, and rock grottos.
Tips and comments
Another great spa resort is the Tennessee Fitness Spa which is surrounded by the wooded hills and mountains of Tennessee. This centre has a sauna, fitness classes, personal trainers and many kinds of massages. Spa vacations are for those who are willing to follow something of a set routine. Many of the spa resorts have very strict routines which they expect their guests to follow in order to achieve the best results. So if you looking for a great way to relax and get back in shape then head either to Caracalla Spa or to the Tennessee Fitness Spa.
Comments
Most Recent Articles
How To Find the Best Spa Resort Beach

Spa resorts on the beach make a great getaway option for anyone that wants to be pampered a little. Everyone needs to take time to treat themselves to something special now and then. If you ...