Introduction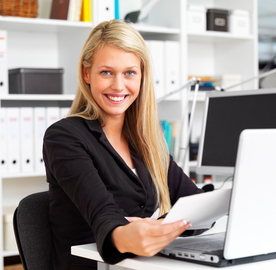 If you are computer savvy and are looking for work to do at home, then try applying for online computing jobs. Most computing jobs can be performed from the comfort of your own home. Many companies hire individuals to work from home rather than the office because it saves them from having to spend extra money on benefits and other employee expenses. Computing jobs can be found online or in your local newspapers. If you are hired to work online, most companies will hire you as a contractor rather than an employee of the company.
Step 1
Search for computing jobs on job websites. Browse popular websites such as Monster.com, Indeed.com, careerbuilder.com or USAjobs.gov. Be sure that you stay away from any scam related websites when searching the online job search engines. Keep a copy of your resume updated as most online job websites will ask for your resume. Store your resume on a flash drive or on your computer in a folder that is easily accesible for you. List any computer experience that you may have as well as related computer education. Check your email daily for any responses to computing jobs that you have applied for.
If you are ever unsure about a specific job listing, don't hesitate to contact the company directly by email or phone. You can also research their status at the Better Job Bureau (http://www.bbb.org/). When there is complaints about a company, they are often listed at this website.
Step 2
Visit the website, ComputerJobs.com. It has a variety of computing jobs (both online and offline). You can search for computing jobs based on skills such as technical writer, project manager, Oracle, Cisco, Perl and more. It lists computing jobs based in popular areas like the Twin Cities, Chicago, DC Metro, Detroit, Florida, New York Metro and many others. To save from logging onto the website each day, you can subscribe to have job listings delivered to your email daily.
Step 3
Research work at home websites for computing jobs. Be sure not to fall for any online scams. Any job that requires you to pay money upfront is not legitamate. Visit work at home forums to speak with other online users who may have online computing jobs. Some popular work at home job websites include wahm.com, workathomecareers.com or workathomejobs.org. There are a variety of online computing jobs such as website design, programming, marketing, offering computer advice and assistance, software testing along with many others.
Step 4
Read your local newspapers for listings related to computing jobs. Sometimes companies hire workers outside the company to perform computer related tasks. Sometimes this involves fixing or repairing computers, installing virus protecting software, designing computer programs or other computer duties that a computer will need. While you won't be an actual employee of the company, you will be referred to as a contractor. This means that you will be responsible for your own taxes.
Tips
Comments
Most Recent Articles
Job Online Information

Everyone must have some sort of job in order to survive in the society in which we live. Even if money might not be an issue in certain cases, every person in this world needs to do soothing...