Introduction
Maintenance jobs require a person to be able to work independently and also with a team, so the person should be able to follow orders as well as perform the role of a team leader. Those who are applying for maintenance jobs must have the basic know-how of electrical systems and should be familiar with woodwork. Apart from this, these job calls for a lot of physical strength and adaptability of flexible schedules. At least a high school degree is required for this job, and any past experience will increase your chances of acceptance by hotels. Some hotels even offer on job training programs for those who are unfamiliar with fixing appliances and handling equipment. This article will inform you about what things should be done to ensure you land a job in the hotel you applied in.
Step 1
No matter which country you live in, hotels always need people who can carry out repairs and clean up the facilities to make sure everything is going as it should be. Maintenance jobs at hotels can be very interesting too because you are meeting different people from all around the globe. It is a prerequisite for a maintenance job that the person is able to communicate easily without any problems. In every field, people are required who monitor the daily functions and in the case of hotels, this tough job is the responsibility of maintenance staff.
Step 2
Many people have difficulty in finding a good way to apply for the job they are interested in. The situation is different for every person. Some are applying for their very first job and are very nervous, whereas some are looking for just a part time or summer job. But generally a few things should be kept in mind while applying for maintenance jobs. The first step is to search for the job that suits you well. This can be done by asking friends, former employers, looking in newspaper advertisements and by doing a Internet research. Next, gather all your education related papers. It is also recommended that you get three reference letters for your interview.
Step 3
If you are submitting an application for a job interview regarding higher posts in maintenance jobs, then it is recommended that you prepare a curriculum vitae along with a cover letter. While giving a personal interview, things like dress atire, hairstyle and etc are very important. It should be kept in mind that a neat and tidy look is preferable to all the employers and hotel managers. Hair and fingernails should be well groomed. If you are taking the job as a part time job then it is your responsibility to inform the hotel administration regarding your work availablity.
Tips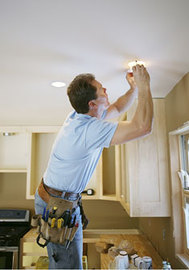 To sum it all up, maintenance jobs are one of the most important yet unappreciated maintenance jobs in hotel management. Thus, while applying for the job, one should be mentally prepared and follow a clean and neat dress code while going for a maintenance job interview. Also, if you really enjoy working as a maintenance person, then there is nothing that can stop you from getting it.
Sources and Citations
Comments