Introduction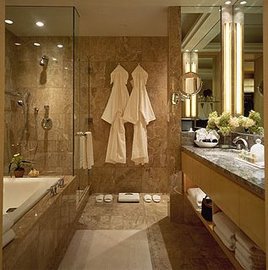 Spas are basically there to make people relax and forget about their problems for a while. These spas can be very relaxing and so can the treatments these spas provide you with. You can even get these treatments yourself. Basically the main purpose of going to a spa is that you get all the treatments from someone else and in doing this, you give a lot of money to someone who is just treating you with the basic things. You can even do this at your home without the help of anybody and this way you would save a large amount of your money. You can do this by having a home spa. This home spa can be made inside your own bathroom, only the basic things are required.
Step 1
You need to have a few things which are compulsory for your home spa. You have a bath tub at your bathroom obviously. You can use that in having hot baths and the body polishing treatments that you might get at a spa.
Step 2
You can also create a spa of your own in your bathroom by buying oils, like the sunflower oil, the olive oil and other oils which suite you the best and then put them in attractive containers, then decorate these containers on shelves in order to give your bathroom the look of a home spa.
Step 3
There are also many soothing oils and lotions which you can easily purchase at a nearby store, you can buy these and have them in a pretty bottle and then decorate them in the same way. Since bath tubs at a spa have soothing oils along with flower petals in them, so you can pour one of your favorite soothing oils into the tub along with some flower petals. This would give your bathroom a home spa look.
Step 4
You can even use dried herbs, which are very good for your skin and hair. You can get these dried herbs easily, at a local grocery store and they might even be present in your backyard and you can use them after grinding them in a piece of cloth. Spas have herbal facials and massages too and your home spa can have one of these as well.
Step 5
You can use these herbs by boiling them and treating them by applying them on to your face and your body. These boiled herbs give you a more glowing and flawless skin. In many spas, these herbs are mixed with many other creams which have chemicals in them too, but in your home spa you can use these herbs in the most pure form and you can use them without any worries.
Tips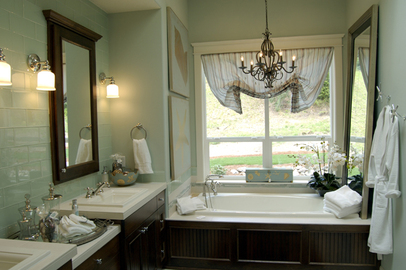 You can also display your manicure, pedicure equipment in your bathroom to have a better cleaning of your nails so, you can display this stuff here too in your home spa. A Home spa is better than the spas that you go to after a month or so, because they do not cost you that much so they are cheaper than those other spas. They are also good in a way because you know that the things that you are using are pure and would not have any side effects.
Sources and Citations
Comments
Most Recent Articles
the Best Spa Supplies For the Home

Home spa is a better option for those who are living in the modern era and are finding difficult to handle the increasing stress. A calming oasis can be created to retreat and revitalize out...

How To Make Supplies Spa

It really doesn't cost a lot of money to create supplies spa. In fact, this is actually a lot less expensive then spending the day at a local spa. Therefore you will actually be able t...

How To Have a Day Spa At Home

A day spa at home is a superb idea if you want to relax and rejuvenate your body after a stressful day at work. It can help you feel good and keep your body healthier as well. Setting a spa ...