Introduction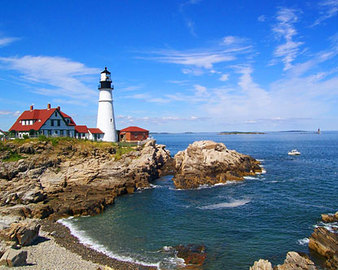 Terrific shopping, craggy mountains, picturesque coastlines and a breathtaking view of the Atlantic Ocean all make Maine a favorite getaway for couples. On your Maine vacations, always keep in mind the humid temperatures in the summer, the snowy winters and the abundance of many great bed & breakfasts. Many hotels in Maine focus mainly on romance packages like the Marriott's Escape package or even the Camden harbor Inn's honeymoon package. All feature Champagne on arrival, delicious fish and chop breakfast, and many other facilities from saunas in hotels to Jacuzzi's in hotel rooms. So if you want all of this, go for romantic Maine vacations.
History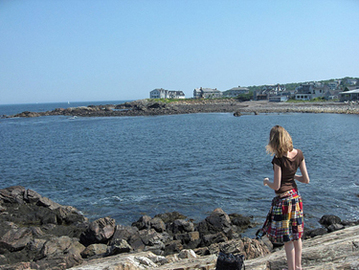 The Bar Harbor is a small town in Maine that overlooks the waterfront and is the ultimate summer spot. Hosting many Music Festivals, it holds some of the most exquisite restaurants with romantic sea views and has many bicycle and canoe rental facilities. Every year Maine's fisher men catch some of the most delicious lobsters you'll have in your life. So you've got scrumptious food, exciting adventure and soulful music all in one trip on a great date with your special someone in Maine. The White Barn Inn is the only 5-Star restaurant in Maine as rated by Forbes and also a AAA Five Diamond honoree for nearly 20 years now. Enjoy a nice elegant dinner at their restaurant, which was described by Boston Magazine as "achingly romantic."
Features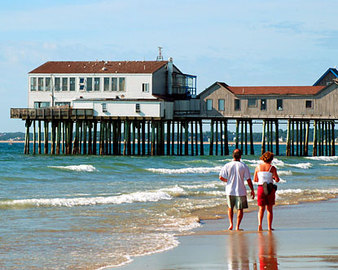 Maine is also known for its shopping district. With an abundance of antique stores, flea markets, malls and factory outlets, Maine offers the best shopping experience you can handle yielding the best buys. When you're all tired from shopping and just want to spend some time with your partner, visit the Popham Beach. It's a must part of your Maine Vacations. It's one of the longest stretching beaches you'll find in Maine. You'll find plenty of couples just strolling in the sand. Because it stretches so long, you'll easily find a secluded spot to call your own. As you go further along, you'll find many wooden shacks and barbeque facilities available for you to cook up a nice yummy dinner. And if you enjoy that then also visit the town of Ogunquit. The Marginal way in the Ogunquit Beach is a remarkable tribute to nature. It's a one-mile long pathway of rocky shores along the coast that continues into the town with whitewashed seaside shops and wooden shacks. It offers the romance of crushing surf and breathtaking views of the ocean along the white sand beach of Ogunquit. The Portland Head Light is another favorite spot for lovers. Walk around or just sit near the shore enjoying the surfs and wind come against the shores. It's one of the most photographed light houses in the U.S.
Tips and comments
If you are planning to go for romantic vacations, Maine should be your destination. Be sure to research the many Inns and bed & breakfast hotels available to choose from. Look for great spa facilities and nearby beaches and shopping districts. And get your Maine vacations booking in advance in February. It's one of the busiest places during Valentine's Day.
Comments