Introduction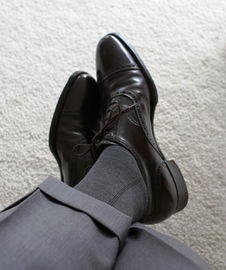 An important part in dressing and perhaps the most neglected one is socks clothing. However, a dress seems incomplete with this part. Like any other garment one wears, socks clothing does have its rules as well which hardly anyone follows and eventually lands up destroying the whole perfect look you had gained by the rest of your clothing. You wouldn't be able to find a thick guide book on just choosing socks but there are some rules that can save you from being the laughing stock in the fashion community.
Step 1
The first most important rule in the socks clothing is that white socks are only for sports activities. So just let them stay inside tennis or squash courts, wearing them on with a suit will ruin the whole elegant look of yours. They in fact look even better than black or any other socks in such sweat generating activities but never on with your normal routine clothes.
Step 2
Dress shoes are dress shoes so they should be treated in a special way. Most people when choosing socks clothing tend to randomly select a pair, not considering the fact whether it's looking good or not. Most people tend to wear athletic socks, giving a justification that its black colored, whereas this is not the only condition. This is the most common mistake among masses as athletic socks are made up of heavy cotton and this makes them thick, so when a person wears them over dress shoes they would pop out of the sides. For dress shoes one should opt for dress socks which are thinner and finer, which makes it easier to wear along with dress shoes, giving your whole suiting a flow.
Step 3
One of the most important rules that is misunderstood among many in choosing socks clothing is the matching-the-pants rule. Apart from jeans, this rule applies to all casual and dress pants. So if you are wearing a brown colored pant, wear brown socks, similarly black pants require black socks. It's better to try out socks while purchasing with the pants you intend to wear them with, and just in case you don't happen to find the right matching, a darker color works fine.
Step 4
Novelty socks are very popular in socks clothing. Available in different colors and designs with even your favorite anime character. But they shouldn't be worn around, especially when you wish to have a serious or mature look, because it leaves the impression on others that you are not what you intend to be. They are ok within the premises of your home but never wear them out of your apartment or in a public gathering.
Step 5
Another common mistake in the socks clothing is made by folding the socks or rolling them. When you do so while wearing a dress pant this often expose your hairy legs or makes your ankles look slack. Another side of this mistake is to wear socks with shorts and folding them, firstly you don't need to wear socks under shorts and if it's necessary then buy ankle socks which are short and not much visible when worn with sneakers.
Tips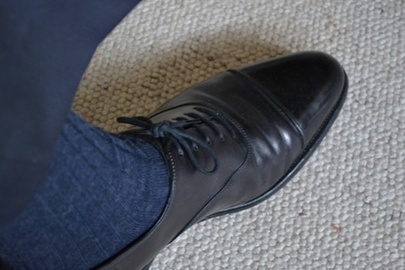 Review your wardrobe, especially the socks section. Bring in fresh pairs of socks clothing, every once in a while, to avoid running short of them in the most needed time. Plus socks tend to wear out more than any other piece of clothing in one's collection. Manage your Socks clothing according to your requirements of the day.
Comments