Introduction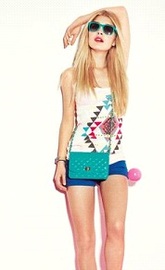 Winter has come and gone and summer is right around the corner. The changing seasons are bringing changes to our wardrobes as well. Boots, coats, woolies and scarves are being replaced by shorts, sandals, summer dresses and light tops. The new season brings new clothing trends with it. Every year the trend is different from the previous. This summer the new clothing trends range from floral, airy maxi dresses to sexy sheer clothing.
History
There are new clothing trends every season because of the ever changing fashion. Traditionally however floral prints, airy clothing and pastel colors have been the staples of summer clothing. They look and feel light keeping you cool during the sweltering heat. Summer dresses are some of the most common fashion choices for women during the summer. Most men prefer to wear shorts with loose shirts to keep themselves cool. A lot of the modern trends take cue from the Greeks and Romans and their light silk and cotton gowns which they used to wear to avoid the heat.
Features
Some of the new clothing trends for this year's summer include, things like pencil skirts which are making a comeback for both casual and formal wear in different ways. Hot pants will also be in vogue during this summer. Minis and maxis are also back this time; however mid length skirts and full skirts plus anything that is 60esque fashion is completely out. Over stated baroques have been replaced by under stated baroques, and pleats and boat necks are back in business. Lace is still going strong and lace dresses are still very much part of the in fashion this year. One shoulder tops too are a great item to have in your closet this year. The colors that will be going strong this year are yellow, red, pastel tones, neon's and Egyptian gold. Grey, silver and orange are complete no-no's this year. Yellow combined with beige, neon colors and pink is also a great fashion trend. Print choices of 2012 include, geometrics etc however mix and match is a must don't go with only one print only. Floral prints are also must haves whereas as digital floral prints are not recommended. The must have fashion item for summer 2012 is the pajama which is making a massive come back. Pajamas in bold colors, prints, embellishments, lace details are all very much in for a casual day.
Tips and comments
Some tips for buying and looking good in new clothing for 2012 are, number one keep it minimal. Don't try to go for a lot of styles at the same time. Keep your look classy and elegant. One of the new clothing trends is mixing and matching. If you don't want to buy a lot of new stuff just mix and match some of your old prints. Pastels have always been in during the summer heat reuse some of your pastel colored outfits from last year. Try to upgrade your look from time to time. Experiment with new things, different make up, new hairstyles and rock it out.
Comments