Introduction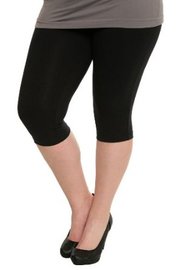 For years, the fashion industry has been promoting the size zero look with their ultra skinny runway models and their slinky apparel as opposed to older times where curves were more appreciated and the healthy look was prized. Nowadays, to cater to all the women who refuse to starve themselves, many fashionable clothing lines and even designer wear has sprung up in favor of plus size women. Leggings are a huge fashion statement and are adored by women of all ages and sizes, so imagine finding the most stylish leggings in plus size as well! Plus size clothing is easily accessible now online and in stores.
Step 1
One of the most famous online plus-size clothing stores is Roaman's which stocks sizes 12W to 44W. They sell all sorts of cute and stylish blouses, pants, outerwear, winter coats, jackets, dresses, skirts and much more. Their leggings collection comes in all sizes with jeggings, capris, printed and simple styles.
Step 2
Torrid is a huge plus size clothing store chain, also having an online store that exclusively sells women's clothing. Their clothes are showcased on plus size models which will give you a good idea of how they will look on you! They ship worldwide making them accessible to everyone! Catherine's is another plus size seller having a beautiful collection of women's clothes, including leggings and are currently having a great spring sale!
Step 3
Avenue has outlets open across the country and as well as an online store. Their tagline is 'fashion for women sizes 14 & up' which means you can surely find what you want in their hot clothing line. From swimwear to denim, they offer it all, and their leggings and tights collection is versatile and affordable!
Step 4
Lane Bryant, both online and in stores, sells exceptionally stylish plus size wear for women, so visit them today and don't miss out on their ongoing sales! Ashley Stewart is another hot brand offering plus size women's clothing ranging from swimwear and intimates to dresses and shoes. Only Leggings is an online leggings superstore having a huge variety to pick from and the most exotic collection of printed colorful leg-huggers – shop from there if bold and bright is your style!
Step 5
Relatively inexpensive plus size clothing can also be found at departmental stores like Macy's, JC Penney and Wal-Mart, but if you want designer wear, spend to your heart's content on trendy dresses, skirts, pants and leggings from designer labels such as Lafayette 148, Anna Scholz and Violet Kay.
Tips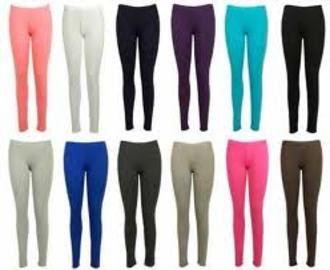 No longer do the women of today have to feel unconfident about themselves and their clothing. With the wide array of plus size available within reach, larger women can step out in stylish clothes that are not only perfectly suited to their curves but make them feel ready to take on anything! If you find you cannot judge online how any pair of leggings or other items of clothing will look on you, log out and head to the nearest outlet of the stores listed above and try on those clothes until you find what looks and feels best! Be it leggings or swimsuits, style for you has gotten a 'plus' upgrade!
Sources and Citations

http://www.roamans.com/Plus-Size-Leggings.aspx?DeptId=15468
http://www.avenue.com/womens/clothing/plus-size-leggings
http://www.onlyleggings.com/plus_size_leggings/
Comments