Introduction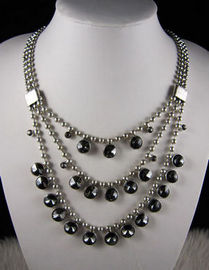 Jewelry has always been in fashion and women's favorite accessory. Jewelry enhances a women's personality. Though gold is considered to be the favorite and beautiful metal but silver looks great and elegant if matched with clothes properly. Silver has always been in fashion; Silver looks great with dark colored clothes like black and royal blue. All the Hollywood actresses are often seen wearing silver at the red carpet. Many women avoid wearing jewelry so they go for artificial jewelry. Fashion changes with time and to follow the trend you should know the latest fashion; silver has always been in trend. It always looks good and gives an attractive look.
Step 1
Silver jewelry looks good because of its shine and neatness. So if you have a lot of silver jewelry make sure you get it cleaned it from somewhere or clean it by yourself with baking soda. Jewelry will look really bad if it's dark and worn out.
Step 2
It's very important to dress up according to the event and what your attire demands. You cannot over dress or you can't be way too simple. Silver jewelry gives a very elegant look so if your dress is quite fancy you can just wear silver earrings or a silver bracelet. It will give you a complete and beautiful look.
Step 3
If you are wearing silver jewelry never mix it with gold. Silver jewelry has its own charm and beauty and gold has its own. Both of them look good in their own way and separately. You can wear different shapes of silver or even color. While buying silver jewelry, make sure it doesn't give you a dull look. You can match your silver earrings with something colorful on your wrist. Or you can wear silver earrings and a colorful pendant of any stone like sapphire. This style will give you a very chic look.
Step 4
Silver jewelry is now in colors as well and has further enhanced the beauty of silver. It's mostly seen in purple and sapphire color as they are neutral colors and go along with any dress. As the fashion keeps on changing, now that silver is available in colors, you don't have to worry about the changing trends. You can match your earrings with your dress.
Step 5
One of the tip and benefit of silver jewelry is that even though you are dressed up casual and want to wear jewelry to give yourself a complete look, silver jewelry is for you. Silver is a neutral color. Mostly women wear silver to follow the fashion trend others are obsessed with silver and do not wear anything else.
Tips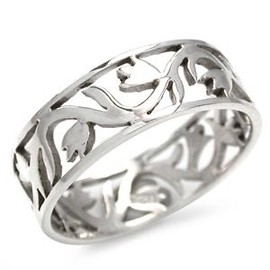 Nowadays gold is not given the same importance it used to get. Silver came into fashion through media and audience always follow what our actresses and models wear. There is some jewelry that never gets out of fashion and gives a great look whenever you wear it. It's not even necessary to wear what is in fashion, like silver looks good whenever you wear it and gives a attractive and stylish look.
Sources and Citations
gem-fashion.com/
Comments