Introduction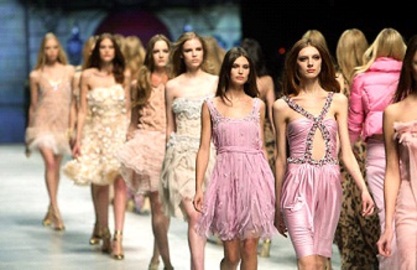 Once upon a time, Pink was the stereotypical uniform colour for girls, but how times have changed. Today, pink has become the trendiest colour for all seasons, genders and ages. Whether you take a stroll down Oxford Street, cycle down the beautiful gardens of Paris, or spend your summer days soaking in the sunny Mailbu sun, you will undoubtedly see glimpses of pink all around you. Pink has become fashions colour for all seasons, floral shades of pink match the spring blossoms, while hot pink hues brighten up our summer days, and when it comes to autumn and winter, fashion marks no boundaries.
History
Little girls have always been associated with pink; its strong feminine attraction has existed since the late 1800's, and until today remains a uniform colour to identify girls with. The differentiation of genders was marked by the colours: Blue for boys and Pink for girls. Additionally, The iconic Barbie doll, which was undoubtedly the epitome of a little girls dream wore her signature colour that being pink. Over the years, pink was eminent for it femininity and beauty and was used to define women. However, as time progressed, fashion defied these socially set norms and the colour pink has broken out amongst the stereotypical female gender, and the 21st century saw the surge of the colour pink into the male fashion market.
Features
Today, every red carpet event, every royal wedding, every recognizable event across the globe carries with it the colour pink. Whether its in the form of a Dior Dress, a Galliano jump suit, an Indian Saree, an Arab Abaya or a Chinese Kimono, pink has taken the fashion world by storm. This year in fashion, the colour pink was seen through various different mediums. It became the favourite lip and nail colour shade of the year. Pink was seen as one of the most dazzling and glamorous colours in winter coats and jackets. Designers used the theme of ballet and its pink femininity and translated it into extraordinary works of arts on runways across the globe. Whether you're a fan of the light tea pink, or the florescent and loud hues of hot pink, this year was the year for you. It was the year of pink. Women are undoubtedly and naturally attracted to the colour pink, but this year, pink became the trendiest colour in male fashion. We started off with very light and airy hues of pink used from shirts, to suits, to blazers and jackets, and as summer came around, only the boldest of men created fashion statements with loud and bright tones of pink in every form; whether it was to the beach on a hot summer day, or whether it was to an elite aristocratic party, pink was the colour to wear to be noticeable.
Tips and comments
When you're wearing pink, it can be a hit or a miss. But that certainly doesn't mean there's not a suitable tone of pink for you. When trying to fulfill or wear a trend, make sure that you choose the shade and the style that suits you. Not everything is meant for everyone. Don't be afraid to try new things and take risks. In fashion, everything is possible, but not everything looks good. But pink is undoubtedly the colour this year, and out of the 100 or more shades of pink, you're bound to find the right one for you.
Comments