Introduction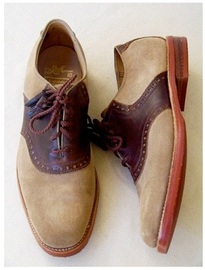 Great quality shoes that enhance the look of your clothes and overall vibe are a complete must! Nowadays, it's extremely hard to find a shoe that matches perfectly and is a sure shot fit. This is where Murphy Shoes come in; the best part being that they're so soft and comfy, yet they're made from purely natural elements that one would expect to be rather unsightly. They're not only preferred by the elite class in every society, but the middles class also leaves a well due place in their budget for these feet wonders.
History
Thomas Murphy was the founder of this large-scale shoe catering business and was completely based in Brighton. He graduated from Cordwainers at London College of Fashion and Central St Martins. Before coming up with his own production house, he designed and created shoes for Boudicca, Robert Cary-Williams, Ann Sofie-Back and NOKI, all popular and notable names in the field of shoe making. He has long since been a household name winning the Footwear Friends Design Award in 2008. He is currently 31 and from a very tender age he believed that designing entails awareness of surroundings, taking in what's visible and transforming it onto something completely different. He used to love to walk alongside the sea front at Brighton where his studio is located. According to him, this enables him to observe natural emanations such as how the wind, sea and sun corrode everything, be it the most complex of structures. This in turn is the inspirations of his yearly collections and also comes from the unique strengths of his craftsmen who continue to a source of inspiration for him.
Features
The concept behind Murphy shoes designs is extremely unique and they are all hand made in England using different types of wood, metals and leather as well. They're vintage shoes in their ideal sense as they age as gracefully like a fine wine and outlast any other shoes one might own. The materials used to construct them all age with time and because of the weather changes and that is what makes them so appealing to every person! Murphy shoes is popular because of the unique aspects it reveals all shoes have their own names and can be your own little customized babies. Shoes have earthy and natural element focused names like Laguna, Medina, Argon, Iridium and Hydrogen. They current line is influenced by the oxidization of copper because that held a large fascination for the Murphy Shoes owner. The effect of tarnished copper tubes on a building giving off different shades of orange and red were the theme incorporated for heels.
Tips and comments
The idea behind Murphy shoes heels, stilettos and flats is interconnected to its respective materials. In specifics, the hand dyed leather of the Hendrix model is named after the guitar and is inspired by the sunburst paint effect on guitars. Therefore, every shoe has a story to tell and revealing this story can be an enlightening experience. As the owner of Murphy shoes states: "My shoes could really change with the seasons and years and they all have a different story to tell."
Comments