Introduction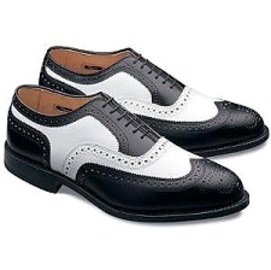 Shoes are necessity for every die hard fashion fan and even regular people. Shoes alone have the ability to completely build up or destroy a look. That is exactly why most shoes are often as expensive if not more as regular clothes like dresses and suits. Shoes aren't important only for females, but also for males. The recent trend of classy dressing and meterosexuals has caused a boost in the shoe sales for men in particular. Specialized retail outlets deal specifically in selling tailored shoes of vast varieties for men, and one such store is Stay Adams.
History
Stacy Adams' shoes haven't become an offering of the market recently. They have been around for more a 100 years, believe it or not. This was initially founded as a small scale company in 1875 by William H. Stacy and Henry L. Adams in Brockton Massachusetts. This company upon its advent sold shoes at really low prices and offered services like polishing and aimed to serve only a small bunch of customers. The company represents the core of American Culture with its designs that have altered according to the requirements over the past years. This company was popular during all eras, from the roaring 20's and the post war boom, to the refined jazz era. Stacy Adams' shoes have been bought by numerous celebrities and over the passage of time they've become a complete fashion statement. In comparison to the single outlet create in 1875; there has been expansion on a large scale currently having around a hundred retail outlets all across the US.
Features
Stacy Adams' shoes provide a diverse mixture of shoes, namely, classic, modern, relaxed, fashion and Brockton originals too. The highlighting distinction of the shoes sold by this company is that all of them are professional. No sneakers or slippers are sold, but classy and sophisticated boots, dress shoes and bluchers are available for sale. However, one must not be disheartened because these shoes are found in different colors suited for almost every age and taste. Multicolored concepts are prevalent using dull shades of brown, black, beige and green to set serious yet demure contrasts. The shoes might seem harsh and uncomfortable because of their solid outlook, but their feel is completely the opposite. Their soft and lush interior is very comfy and is worth its price in cash. Previously Stacy Adams' shoes were sold only in outlets, but catering to the needs to the technology demanding population, they have opened up an official online website and store. Customers can create their own accounts and shop as much as they want and browse through different designs choosing the perfect one. Payments need to be made via credit card and full refunds are available in case the customer isn't satisfied. So, now Stacy Adams' shoes fans can shop from the comfort of their home.
Tips and comments
When visiting a Stacy Adams' shoes store customers get the opportunity to try on every possible design and choose the mot optimum option. This specialized store offers trained personnel to assist you in making a choice and they must always be consulted. One must take care of the shoes and purchase special polish from the outlet. Moreover, receipts need to be saved in case of returns of exchanges.
Comments