Introduction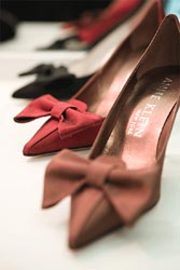 A woman's worst nightmare would be not to have a perfect pair of shoes that go with her dress. Choosing a right pair of shoes can turn out to be a real dilemma. There are overwhelming choices to select from which can send anyone in a frenzy. What woman does not drool over a pair of embossed leather designer pumps? The silver slingback sandals look quite sophisticated, and not to mention those hot red knee length boots. Anne Klein shoes are here to help you make the right choice. From an extensive range of dress shoes to casual shoes, it is feasible to find absolutely flawless shoes for every occasion. Anne Klein shoes augments your fashion statement in a very becoming way.
History
Anne Klein was an American fashion designer. She and her husband Ben Klein established a fashion clothing line called Junior Sophisticates in 1940s. The company was very popular among the young American women. She founded the label Anne Klein and Co. in 1968 along with her business partner and a fashion guru Gunther Oppenheim. She designed women's sportswear, trousers and shirts, and several devices, like a girdle for a mini skirt, that go with the attire. Later, she also partnered up with a Tomio Taki from Takihyo. Anne Klein was awarded various fashion accolades for her fashion designing that was polished, chic and trendy. She died of a breast cancer at the age of 50 in 1974. Jones Apparel Group now runs the Anne Klein brand. They design evening wears, suits and separates for women, casual and fancy Anne shoes and endless accessories like jewelry, handbags, belts, scarves, sunglasses and whatnot. Anne Klein watches are also being designed by Sutton Time.
Features

Anne Klein shoes come in many varieties. The incredible range of footwear is unlimited and offers you a chance to select a perfect and exquisite pair of shoes for any event. Anne Klein Pipa are man made leather slingback sandals with pointed toes and kitten heels. They create a chic and classy impression and give you a boost of confidence. Edee's Platform pumps has a vintage style and a sexy vampire touch with a cute little bow on the top that makes them irresistible to every women. Eireen Sandals are ladylike and sophisticated with a must have air about them. Wear any of these with your evening dress or a formal suit and you can count on turning all the heads in your direction in awe. Anne Klein flat Bloom Ballets shoes are sassy and sprinkling with spunk. Comfortable and adorable, in any color you want, they will look awesome with your favorite jeans and top or short skirts. The Platform pumps can be worn day and night and go with almost every outfit. They are quite comfortable, feminine and accentuate the shape of legs in a flattering way. Women's Ultima sneakers, Universaz Flats, Dax stretch wedge are an ideal choice for day to day casual use. They ensure comfort, durability and a touch of elegance to your feet. The variety of shoes is countless, this year do not forget to buy a few Anne shoes for your wardrobe.
Tips and comments

Anne Klein shoes are cozy, trendy and fit true to size. They can be bought in amazingly reasonable prices. Indulge your feet with awesomeness of Anne Klein shoes this season, accessorize with Anne Klein watches and handbags and set out to have a perfect day.
Comments