Introduction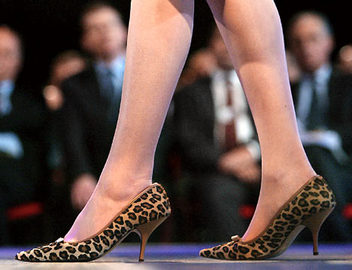 If you are not a huge fan of heels that are too long then kitten shoes are the type of shoes you should definitely look into; they have a thin base and a heel that is on average of 1.5 inches and in some cases even less. The most important and appealing feature of kitten shoes is not its perfect size of heel but also the silhouette and design of this footwear which is feminine and comfortable to say the least; this makes it a favorite amongst the fairer sex for centuries now.
History
Kitten heels are not only the perfect choice of shoes for a classy and elegant night out or for a formal event but are mighty sufficient and functional as day wear as well; the ideal place to sport them would be your workplace or office if it demands a somewhat formal dressing up. One of the most important factors that have helped making the kitten shoes a huge hit amongst the ladies is the uncountable styles, designs, prints and colors this form of footwear has been modified into. There seems to be everything for everybody in this range of shoes and not to mention the high factor stability that is much preferable amongst the women. Kitten shoes being the best alternative to high heels has also helped its popularity gain momentum and First Lady Michelle Obama seems to give a huge boost to the sales of kitten heels by sporting them quite a few times bringing them back in vogue.
Features

If you are planning on purchasing a pair of kitten shoes then what you need to be aware of is that you should definitely opt for the strappy ones as they enhance the beauty of your feet, however given you are looking to dress up lady like and it reflects your personality. The classic and traditional red shoes with kitten heels have been known for too long to contribute just the right pinch of sexy elegance to your outfit and if you do not then it is about time you invest in a pair of those.
Tips and comments
In today's day and age with fashion raging with every type of product and accessories you can easily find kitten heels on every kind of shoes be it court shoes, peep toes, pumps or boots. Ankle boots pose as one of the perfect examples; if you desire that sleek and polished look, kitten heels on your boots will do the work for you. You do not have to settle for flats which give you no height or heels that make you uncomfortable when kitten shoes are there to solve the problem regarding both aspects. The best part about them is they compliment what ever attire you have planned, be it half pants or jeans or even skirts. In our honest opinions, kitten heels give just the right amount of style and class to your personality as well as that gorgeous outfit of yours not to mention this particular style is proving itself to be one of the reigning trends in the approaching seasons.
Comments