Introduction
We live to celebrate. Across many cultures and countries there are different ways and traditions adopted by people to celebrate. Celebrations can be of a birthday, marriage, success, happiness or just plain tradition. One of the most celebrated events is the day marked as the golden jubilee or in other words a 50th anniversary. It is indeed a special occasion as it marks fifty years spent just like couples celebrate their 50th anniversary to commemorate the love and commitment both share for each other. Many people and organizations spend a lot of money and create hype when celebrating this day. Celebrating golden jubilees is not a new tradition and in fact many cultures and countries have celebrated this milestone for centuries.
Step 1
The first step for a perfect celebration is to create reminders for the 50th anniversary. Forgetting it can be considered an unforgivable act and cause distress and disappointment. Remember to keep as many reminders as you can.
Step 2
The symbolism and the tradition behind celebrating the day of 50th anniversary are very important. In many traditions and cultures this day is celebrated with much zeal and excitement. You can start your planning by going through different cultures and their method of celebrations. One thing is certain; the theme for presents and décor for a 50th anniversary is mostly golden. Also plan accordingly with your partner's tastes and in case you are a company, keep your employees in mind. You can have a private party with only the both of your reminiscing about the years gone by or you can throw a huge anniversary bash inviting all your friends and colleagues to celebrate your success.
Step 3
The 50th anniversary can never be complete without a proper gift. You need to find a gift that fits the occasion considering other restraints like budget and choice. If you are throwing a party for someone or are invited to one ask about the persons' tastes form the closest relations. If you are shopping for a gift for your wife or husband then remember that traditions dictate gold as a present.
Step 4
The forth step is to create a list of people that you will be inviting to the party. The 50th anniversary is a significant occasion where all those who have stood by you through thick and thin for many years should be invited. Apart from family and friends one should invite the younger lot too, to inspire them and help them understand that long lasting love and commitment is indeed possible.
Step 5
The fifth and final step is to understand that this is a special moment in your life. There will come many anniversaries but the 50th anniversary marking fifty significant years won't come again. So don't hold back and spend as much as you can to have that perfect moment with those whom you trust and love.
Tips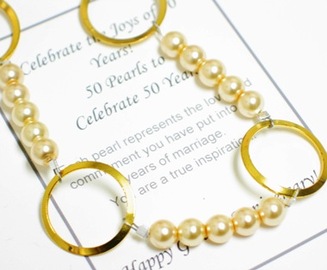 50th anniversary is a reflection of the sacrifices and commitment you have made. Moments like these are best celebrated with focus on the years gone by and a look in the future for more cherished memories.
Comments