Introduction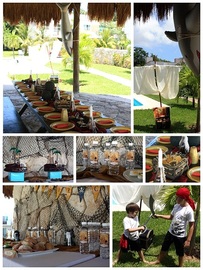 Pirate Birthday Parties are very popular themes for birthday Parties. Children absolutely love the idea of Pirates and not only because of Captain Jack Sparrow, but long before that. Although it would have to be acknowledged that Pirates gained a lot of widespread popularity after the 'Pirates of the Caribbean' was released. The idea of Pirate Birthday Parties with, a pirate themed cake, invites, goody bags, decorations and even people dressed as Pirates are hired to entertain guests and for them to take pictures with. This is a new and unique way to keep the children busy while the adults have a nice chatting session too
History
Pirates have been used for Birthday Party themes for years now. The idea of Pirates and their ships has intrigued children. They have read about them in books since they were very little, seen them in cartoons a squillion times. Pirate Birthday Parties are comparable to the Princess Themed Birthday Parties for girls. This shows the popularity of Pirates among kids, most especially boys. The fairly recent Pirate Birthday Parties are influenced by the movie 'Pirates of the Caribbean'.
Features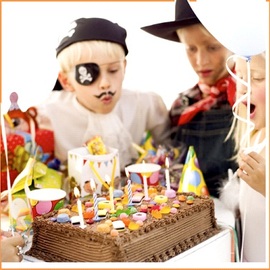 To start off the Pirate Birthday Parties must start off with pirate themed invitations. The invitations can be printed out online, or bought from your party supply store. Once the invites have been handled the actual party planning will start. Almost all bakeries are familiar with pirate themed cake and cupcakes. Once the cake is out of the way, decorations must be paid attention to. The decorations include banners, cups, plates, hats, table covers, Pirate themed balloons and confetti. The activities would also be related to pirates, there could be a treasure hunt, decorate treasure chests, make treasure maps, or games like pin the eye patch on the pirate, cannonball toss and lastly even a Pirate show could be arranged by local entertainers. The costumes are essential for a Pirate Birthday Party, the party is no fun without the children and even adults dressed as pirates and wearing eye patches themselves. Pirate bandanas, hats and eye patches could be given out to the children as they arrive to the party. Party snacks can also be influenced by Pirates. Pirate dips could be served with celery, fries or other finger food. The party favors or goody bags are important, as they are a token of appreciation for the guests. The party favors could be in the shape of treasure chests, pirate loot or simply put in a cute pirate themed bag.
Tips and comments
When keeping a Pirate themed birthday party, one must bear in mind that the theme might require a big and complete transformation of your whole living room or garden if you want to do it just prefect. It's not one of those themes which can be done with a little bit of balloons and the conventional decorations. It demands elaborate amount of effort and funds for the transformation. As the more you decorate the more the children will get engrossed in the atmosphere and enjoy it all the more.
Comments
Most Recent Articles
Ideas For Pirate Birthday Parties

Themed birthday parties are extremely popular nowadays, as they not only provide an exciting backdrop to the party, but also allow parents to choose from a wide selection of games and activi...