Introduction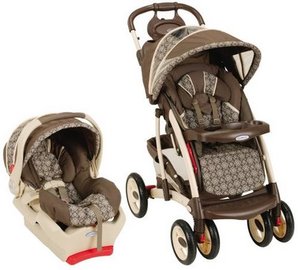 To choose the best strollers, car seats or carriers for your child, you must be familiar with what a stroller basically is. It is a device designed for the basic purpose of baby transport. A stroller can also be referred to as a buggy or a push chair. It is usually four wheeled, comes in many shapes and styles. Some strollers are designed for the infant to sit in and some for lying down. In usual stroller's the baby's face is towards the pusher but in some cases it is otherwise. Strollers are used widely around the world. Moving on to what car seats are, they have been constructed for the safety of infants while they are being transported in an automobile. A baby car seat ensures the protection of a child since a safety belt is not enough for an infant. In some states it is a law that if a parent wants to take their baby along with them, their car should have a car seat. Now the question arises, what are stroller car seats? These have been outlined for fulfilling the purpose of both stroller and a car seat. Its appearance is like a stroller's but with a detachable car seat on it.
History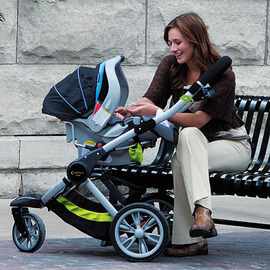 Infant transport system was developed in very early years as child's safety has always been a parent's foremost concern. They were introduced in England in seventeenth century by an architect. The first ever stroller constructed had a shell shaped basket with four wheels. Later the idea of child transport became known to everyone and therefore more devices where manufactured. Year after year new designs and ways of child transport have been introduced and nowadays stroller car seats are famous among parents for infants and toddlers.
Features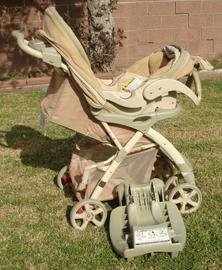 Why buy strollers and car seats both when you can simply buy a stroller car seat? There is a very rational explanation for this; buying both stroller and a car seat individually would be more costly where as buying a single stroller car seat would be most economical and convenient. It will also save you the space in your car resulting in less clutter. Its feature of attaching and detaching the car seat to the stroller makes it more convenient for parents. Also it has features of moving and adjusting the seat according to the baby's comfort which ensures your baby a good nap. If you are looking for the best quality for your child, here are some popular brands for stroller car seats, "Graco SnugRider", "Chicco Cortina Travel System" and "Baby Trend Snap-N-Go". These brands have received most positive feedback from their customers for their comfort and features. Like every device there are downsides to this innovative creation as well. Its weight is comparatively more than those with non detachable seats. One may find installing back the seat difficult. The complicated features may also confuse one. They are often not easily unbuckled from the seats of the car. Another major downside is that they are not expandable; once your child grows up and doesn't fit in the seat anymore, the stroller car seat will be useless for you.
Tips and comments
Since you are bound to buy a baby carrier as having a baby car seat in the car is a law now, why not buy stroller car seats? They are an excellent choice for any parent for their baby's safety. It is one of the best protection you can offer you child.
Comments
Most Recent Articles