Introduction
Living in a world that goes nuts over celebrities, the lifestyle, clothing, shoes and even makeup of these stars are few of the most viewed things by their fans and a lot others on a daily basis. To keep themselves updated with the latest trends and styles, fans and stylists follow these trendsetters as soon as the paparazzi catches the slightest glimpse of them on the street or on the red carpet. As a result, their makeup is one of the most desired things on the list of every girl in the world.
Step 1
Beginning with quick tips of how to get your makeup just like that of the stars you see on the television, the first classic tip is to try the nude makeup with just a rosy blush applied well on your skin. This will make you look fresh as well as younger during the daytime and give you an edge at the same time as well.
Step 2
The classic smoky eye is another essential look to keep in mind when getting through the makeup of the stars. As smoky eyes can be done in absolutely any colour or shade, you can easily define your own personal style while following the star looks. For example, Katy Perry is seen wearing a bundle of different shades of eye makeup while Angelina Jolie is seen several times in a black and brown smoky eye makeup, bringing out the oomph factor that works during the day as well as the night.
Step 3
In order to go for the ultimate glamour makeup, you can always start off with applying a moisturizer followed by your foundation suitable for your skin of any brand and team it up with a minimal eye makeup shade, peachy blush and bronzer to highlight your cheek bones and jaw bone. The last touch to give now is a shade of absolute rose pink on your luscious lips to bring out the perfect look ready for any occasion.
Step 4
With all those light and bright looks, how can we possibly forget the ultimate gold goddess makeup of our favourite stars? Yes, while setting your eyes on fire with a bronze eye shadow enhancing your eye lids and then blending in a lighter bronze shade to it, you can complete your eye makeup here. As for the rest, a bronzer can used instead of a blush and can be finally given the complete look with a lipstick that is equally glamorous and toned down like shades of dull brown and nude colors.
Step 5
As for a bash of other celebrity makeup ideas, you can always add on a dramatic look with high volume fake eye lashes attached to your original lashes and then curled with a mascara and an eye lash curler. Other options include a clean cut makeup look with a bright shade of lipstick such as red, hot pink and even shades of maroon.
Tips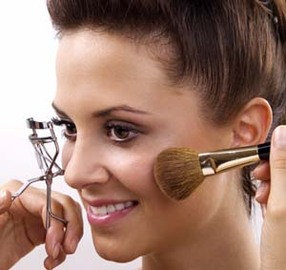 When putting in your best of efforts to get the makeup of your favourite stars, you need to know that the makeup factor does not rely on the pricy products that are used by these celebrities but, it is the technique of blending and applying makeup on your skin to make it look much more glamorous than your usual makeup look.
Sources and Citations
Own info
Comments