Introduction
Listening to a soulful rendition of a classic love song played on acoustic guitar is always a treat and with Valentine's Day just around the corner, there couldn't possibly be a better way to serenade your special someone's soul than to play them a beautiful version of your favorite love song. Playing a special song for your loved one on a select occasion is not only a sweet and romantic gesture, but it can be made even more unique and distinctive by giving your own interpretation to the song that you choose to play.
History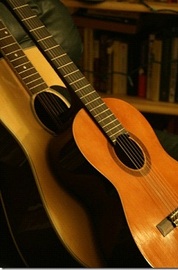 If you are an excellent singer you might consider singing to your loved one but if not, playing a heartfelt version of your favorite love song molded specially for guitar playing is equally a good option. Acoustic guitar has always been the best choice for playing love songs especially when it's coming straight from the heart. The sweet sound of the acoustic guitar based on a heart melting melody seems just a perfect way to express love.
Features
When it comes to what love song seems to be perfect for guitar playing there is a huge list out there to choose from. There are certain songs such time after time by Eva Cassidy, Everything I do by Bryan Adams, I wanna hold your hand by Beatles, I'll have to say I love you in a song, stand by me and every breath you take by police are certain classics which are considered as the epitome of love and romance and are the most commonly played love songs. But there are other really special songs as well. Take Aerosmith's I don't wanna miss a thing as an example. The song has such beautiful and deep lyrics that are slightly overshadowed by the electric guitar and the drums at the background in the original song but when played on acoustic the song steps into another level. An ideal song it surely is for guitar. Another song that sounds highly romantic on guitar in your eyes by Jeff Gaynes. This 1986 song's melody just explains it all; Just like it does for "for Emily wherever I may find her" by Simon and Garfunkel, beautiful and deep love ballad being in love. "Eyes" by Rogue Wave and "Hold You in My Arms" by Ray LaMontagne are also really powerful and deep love songs ideal for guitar playing. Some other really marvelous heart melting and soul touching love songs that are perfect for guitar playing are "nights in white satin" by the moody blues, "tear us apart" by inxs, "the scientist" by cold play, "all I want is you" by U2 , "layla" by Eric Clapton, "such great heights" by iron and wine and "Colors" by Donovan.
Tips and comments
This valentine just tune up your guitar select the most deep and profound love song that just defines your emotions and play it right in front of the person you love. There is just no better way to express your emotions than to play them out through a song and that too combined with the melodious sound of the guitar.
Comments