Introduction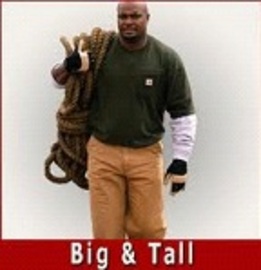 Big & tall apparel includes clothes for people who are big that is stout, broad and heavily built and people who are tall. Most people think that clothes that come under the category of big and tall are for those people who are big as well as tall, which is completely wrong. This special line of clothing is made for heavy men who are either short or tall as well as for extremely tall men who are thin.
History
In past being big and tall meant either wearing ill fitted clothes or having your clothes tailor made as the majority of stores had the right clothes for slim and average heighted people. The concept of being big was perceived as being fat so the extra large clothes used to extremely loose. Those individuals who had a unique physique had to suffer because of that. But today being big and tall is not a problem anymore when it comes to clothing. Big & tall apparel is now becoming very popular which includes a wide range of sizes which are most likely to be found in men who are big and tall. The problem with tall thin men finding loose clothes and short big men finding tight clothes has been solved up to some extent. Today the designers of big clothing lines and stores have realized the importance of wearing the right kind of clothes that suits one's physique and that has come with the understanding of diversity in the size and height amongst the male population.
Features
Many clothing lines and stores whether local or international now always include big & tall apparel in their collections though it has not become a custom for every store that sells clothes. In order to differentiate many clothing stores are strictly devoted to big & tall apparel, selling clothes only to people who are big and people who are tall. Also there are many online stores that devoted to selling clothes for the big and tall individuals. To top it all there are hundreds to different websites that suggest the perfect kind of clothing for your body type if you are tall and big. Many fashion designers offer online services on big & tall apparel as well. Certain international stores that are believed to be one of the best in big & tall apparel are Gap, polo, Ralph Lauren, Rochester, banana republic and Eddie baver. Certain online stores having the best big & tall apparel are extratall.com, suit101.com and bigmen.com.
Tips and comments
Despite of the fact that there are various stores that do have clothing for all sizes even tall and big people many conventional clothing stores still don't have the right sizes. Even if they do have clothes for the big and tall it's not necessary that they have lot diversity when it comes to sizes. If you are someone who is either big, tall and has a unique physique then it would be better if you turn to international stores such as Gap, addidas and polo. Be very careful when shopping online. Measure yourself accurately and always give the right size before buying.
Comments