Introduction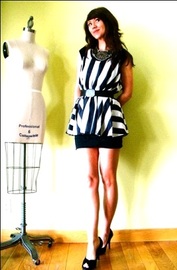 Dress apparel can be divided into various categories depending upon styles, cuts, lengths and designs. It is a savior for women who are on the go, as they are convenient and free forms of clothing. While travelling one can pack light as well considering that no jeans are necessary. These dresses can give off flirtatious looks depending upon how they're worn, in situation where exposed legs wouldn't be desirable, jeans or shorts can be worn to pull them off as tops.
History
Dresses had been ordinary apparel for women since the early Victorian times, where common women and monarchs alike wore tight frock shaped long dresses, along with corsets underneath to highlight the waist. Shorter and trendier dresses gained significance in the 1960s and 70s, where many celebrities sported skin fitted, short dress apparels with bold and outrageous prints on them. Moving on, the trend became diverse with the passage of time and now includes a cosmopolitan of dresses catering to every woman's need, irrespective of age, size and fashion sense. However, it is crucial to note that as time has progressed the dresses have become smaller and more fitted in size, due to the need for unnecessary exposure. Wedding dress apparels are a timeless prospect, required for all times to come. This is the only dress given individual attention of great magnitude. Wedding dresses apparels for women emanate elegance and beauty; hence they tend to be longer, with huge trails and puffy sleeves. A perfect example is Princess Diana's gorgeous ivory dress with the longest train ever witnessed! A more contemporary version of a wedding dress was sported by Kate Middleton on her wedding day, and was more sophisticated and chic in comparison.
Features
Some popular dress apparels include summer dresses, which are typically bright colored, short and shaped like frocks worn by little girls. They have dual purposes and can be worn as beach dress apparels as well, for chilly evenings they can be pulled off with jeans and capris as well. Summer dresses come in two main types, strapless or with straps. Conservative gatherings prefer straps, whereas strapless dresses can be worn almost everywhere, by those liberal at heart. The little black dress is the most seductive and appealing type of apparel that ever came into existence! It is applicable to multiple occasions, parties, dinners, concerts and even clubs as well. Any gathering which requires a bit of sexiness does indeed call for a little black dress! As with all dress apparels this too has many variations, where styles and patterns are considered. The last most prominent and stylish dress apparel is worn in winters, and is manufactured from sweater materials, either woolen or cashmere. Since, these are intended to keep out the winter blues they are characterized by full sleeves or at least three-quarters, and slightly longer lengths i.e. a few inches above the knee. These dresses are worn with heels for a classy yet understated look, and in cold evening they can be accompanied with tights or leggings as well.
Tips and comments
No matter what the occasion might be, there is always dress apparel that fits it! But all ladies, please remember to shave your legs! Shorts dresses and hairy legs are an absolute NO! But, then again the option of wearing tights is available so nobody is deprived of the miracle that women call dresses. It is critical to be able to pull them off and choose the dress proper for the right body shape. Women might consider spending less cash on daily wear dresses, but wedding and party dresses are something they must splurge on. Because, after all, every woman wants to feel pretty!
Comments