Introduction
Disaster happens every now and then, but for successful plan, the essential element is to prepare a backup to evade from crisis and failure. We all have precious things like awesome pictures and videos, college projects, and important documents saved in our home PC or notebook computers. The secure way is to prepare for the unexpected in advance. Especially for a professional computer user and business associate, it is crucial to set up backups of their data and records in case of tragedy.
Step 1
The best protection is data backup software, which can save your to get fired for loosing data or your business to face crisis. An ordinary computer user should also consider this possibility if he doesn't want to be sorry for himself afterwards, because computers are vulnerable against the unexpected failure.
Step 2
Microsoft SQL server is a quite easy and helpful windows program, greatly exercised and secures way to backup and restores your computer data. There are no complex methods or steps to follow. Rather it is possibly the quickest way to backup your files with backup SQL server in case of any virus attacks to corrupt your computer windows or in case of any hardware failure. Follow up the following quick steps which will guide you to use backup SQL server software. Be on the safe side and dodge all crisis or worse.
Step 3
Install backup SQL server, and run it. Now open the backup SQL server. Then look 'Server Objects' in 'Object Explorer'. Right click on 'Backup Devices' under 'Server Objects' and select 'New backup device'. A separate 'Backup Devices' window will open which asks you to select derive where you want to save your backup. You can save your backup in external hard drive or you can select your computer hard disk's drive, other than the one in which your windows is stored.
Step 4
Click on directory button and select the drive in which you want to store your SQL backup. Let's say, you have selected drive(E:). It will ask you a file name below for your backup. Write the file name and click 'OK'. Now, also write the same file name in the 'Device name' bar. You can see a new device has been created under Server Objects-> Backup Devices->(your device name).
Step 5
In the Object Explorer, where under the 'Database' folder, select the file for its SQL backup. Right click on that file-> Task-> Backup. A new 'Back Up Database' window will open, seek the destination box below, select add button and select your backup device which you have just created, then click 'OK'. Now, again click 'OK' to close 'Back Up Database' window.
Tips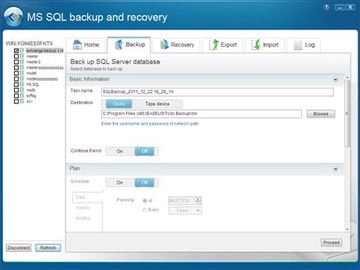 A confirmation message of successfully backup database would appear, click 'OK'. You have just created a secure backup in your computer hard disk's drive with the quick help of backup SQL server program.
Conclusion
Although we only think and talk about setting up a computer backup, but our busy schedule and social activities doesn't allow us to actually do it. Backup SQL server has oversimplified this process. Now everybody can spare few minutes to rapidly make a secure database backup, and restore it whenever they needed.
Comments
Most Recent Articles