Introduction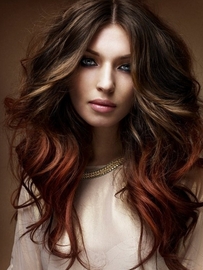 It can be hard to get your hair to curl in the exact way you'd like it to. This article will provide steps to help you curl your hair, and make it look exceptionally good.
Step 1
First, you have to make sure that you choose the right sized curling iron for your hair. It can be easy to choose the wrong curling iron on accident, if you don't know what you're looking for. Keep in mind that not all curling irons are equal. Some of them are created better then others, and won't curl your hair as well as they could. So, begin by checking for the right size. The size of curling iron you want to choose depends on the size of curl that you'd like to keep. If you like loose curls, choose a curling iron that is 11/2-2 inches in diameter. If you'd like smaller, tighter curls, choose a smaller curling iron. Something 1/2-1 inch in diameter should do the trick.
Step 2
Next, you'll need to choose a heat setting that works for your hair, and will get your hair to curl in the best way possible. This way, you'll avoid damaging it. When choosing a curling iron, make sure you buy one that allows you to change the heat setting. If you have fine, weak, or hair that's been treated with hair color, bleach, or has been permed, you'll need a low heat setting. Probably 200 degrees or less. However, if your hair is curly or thick, You'll need a much higher setting; up to 300 degrees. When you're curling your hair, be sure to pay attention to how your hair is reacting to the iron, and never increase the heat above 400 degrees. That will surely damage your hair.
Step 3
Before you begin curling, you'll need to take the steps that are necessary to protect your hair from the heat. First, wash and condition your hair with hair voluminous shampoo's. Next, make sure that you have a heat protection spray to add softness and shine to your hair, and to protect it from all the heat that it's about to endure. Coat your hair with quite a bit of heat protection spray, and apply it in layers. Now, apply a mouse to your hair to help retain the curls after you're done with the hair curling process. Before moving onto the curling, make sure that you're hair is completely dry. Blow dry your hair while holding it upside down.
Step 4
To get tight a tight curl, begin by clipping up your hair into sections. Take your hair in small sections, comb them out, and then clamp the hair in the barrel of the curling iron and roll up. Hold the hair onto the iron for 10-20 seconds, and then release. Continue this process with the rest of the hair. Once you're done, comb through your hair with your fingers (not with a brush or comb, you'll undo the curls).
Step 5
To get loose curls, start by clipping the hair into diagonal sections. Next, instead of grabbing small sections of hair to curl, grab 2 inch sections. When lifting up each section, mist with a light-hold hair spray. Afterward, wrap the hair in a spiralling motion around the barrel of the curling iron. Point the curling iron downward while you're doing this. Let the hair sit for 10-20 seconds. Continue all the way around the head.
Tips
1. Be sure to buy a heat protection spray to protect your hair from the heat.
2. Be sure to wash and condition your hair first, so you can curl with clean hair.
3. Choose the curling iron that will get your hair to curl in just the right way.
Comments
Consider experimenting to find what method works best for you, and to find out how you can get your hair to curl in just the right way.
Comments
Most Recent Articles
5 Hair Curling Tips For Professionals

Curls are our favorite hairstyle for special occasions like birthday parties, a night out with friends, proms, weddings and many others. Yet, although we are curling our hair with every occa...

The Top 5 Tools For Hair

When you want to look your absolute best, a well-coiffed head of hair sets the tone for all other aspects of your appearance. Great makeup, clothing, shoes and accessories can look less than...