Introduction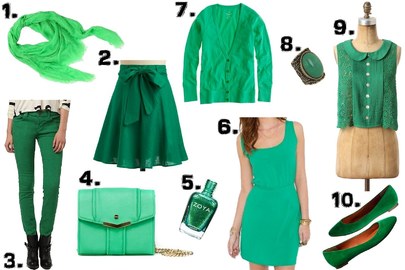 When we think of a perfect look, we make up our mind across all the details that would make our entire look feel complete and make the dress stand out more than was standing out before. One of these major things that light up a dress as well your look are the accessories added to it. Yes, most people do not find the right accessories specially with their green clothing as it a different color, but we will make that easy for you too as we give a bundle of trendy and hip tips for how you can accessorize your green clothing.
Step 1
Starting off with a very basic tip, never match your green clothing with too many green accessories, as they would not make your look good. Instead, you will look nothing better than a bush. Therefore, choose wisely when selecting your bag, shoes , necklace, earrings or bracelets. It is not a strict rule that you cannot wear a green dress with green shoes, but if you bring long a green bag and green accessories too, it will bring down all of your look.
Step 2
As an accessory with your green clothing, do not forget that your make up is also an accessory that you add to your look. Therefore, when applying makeup, you can surely use a green liner or mascara with your dress but do not go overboard with a green colored eye shade.
Step 3
For the best of tips of accessories with your green clothing, the key tip is less is more. Since the color green is a very experimental color and not all people can carry it off well, different shades of this color are adopted by different people to find their comfort zone in. As a result, if you think a particular shade of green will give you a hard time while choosing the right shoes and bag with it, do not go for it. It just might not be your color.
Step 4
There are always times when you just can't seem to find the right colors to match your green clothing. For such a situation, you do not need to call the fashion police, but use a little help from your already existing closet and look for something in neutral colors such as black or white. Both of these colors look well with green and easily blend in with any of its shades.
Step 5
The black and white rule can not only be applied in shoes or bags but in trendy scarves, headbands, bracelets, earrings and hats as well. Like these two contrasting colors, silver and golden colors also merge perfectly with the green clothing and brings the oomph factor in the look that it is missing. As just another add-on to your tips for accessorizing your green clothing perfectly with each other, you can look for a minor color in your dress, if it has any. If it has a print, try choosing accessories of that color with your outfit.
Tips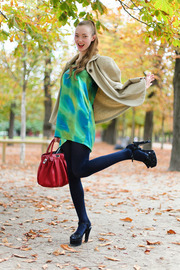 To know your green clothing better, always select something in neutral colors in order to play safe. In other ways, you can also try a different look that you wish to carry with your green clothing as long as you can make it look worth the risk.
Sources and Citations
Own Info
Comments
Most Recent Articles