Introduction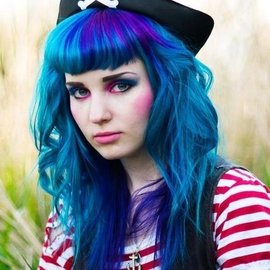 Dying your hair has become a trend. Every single girl in her high school wants to dye her hair just to change their look. Some go for streaks or low lights others go for bright colors that will give them a punk look. I have heard a lot of girls who want to dye their hair blue. Dying your hair blue might sound a little shocking but they don't look that bad. Normally people say that one should get a hair dye from a professional and especially if you are getting your hair blue you cannot afford to take any risks. You should be dedicated while dying your hair which means you will have to take it slow and gentle do not hustle else you will end up destroying your hair. The color should be applied gently and as the cover says, 1/2 the inch from the root and should be massaged gently and you should make sure the color is applied everywhere.
Step 1
If you are scared of getting your hair blue you can use Kool Aid Hair Dye. It will help from getting a disastrous hair dye and you won't have to waste your money either. This is used when you don't want a color for long and are just experimenting with your hair. This doesn't have any harsh chemicals so if you want to change your look just for a brief time use this.
Step 2
Before getting your hair blue or using any dye it is necessary to make sure the product you are using or the salon is using is free of chemicals and is not going to damage to your hair. You should shop for a dye with someone who already knows about dye's or you should do some research about it.
Step 3
Before getting your hair blue, choose the color blue you want to dye your hair with. You will have to bleach your hair light blonde. If you want dark blue color for your hair you will have to bleach your hair dark brown. If you will not bleach your hair the color won't stay on your hair for long and the color will turn to green. It is very necessary to follow all the instructions written on the back of the dye.
Step 4
Dying your hair blue is not going to be an easy job. If you are doing it all by yourself do not take any risks. Get your hair bleached from a salon, they won't charge you much. You can ask a friend but its better if you goo to a salon if you are new to all the dying process, as you don't know the amount of bleach your hair needs.
Step 5
Some people while dying their hair blue use Vaseline on their hands so that the color blue won' stick to their hand. You should avoid using Vaseline as your hair will get oily and your hair will not be dyed properly.
Tips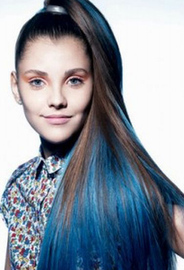 If you have actually decided to dye your hair blue, it would be advisable to use Kool Aid Hair Dye first. Then you will know if that color looks good on you, if it doesn't it will fade in weeks. If you dye you hair blue with a dyer and then realize it was a mistake that would be a mess. So before dying don't forget to do some research.
Sources and Citations
http://www.wikihow.com/Dye-Hair-Blue
http://www.wikihow.com/Dye-Hair-With-Kool-Aid
Comments
Most Recent Articles