Introduction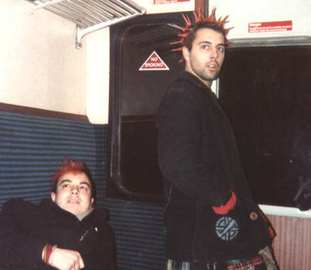 Having spiky hair is quite in these days. Teenage boys love to have standing spiky hair, and they don't tend to hesitate in showing off it either. Number of hair gel are available in the market, suitable for almost every type of hair. But despite the fact that you can find lots of hair gel products some people still don't tend to get that hold in spikes which they are looking for. The type of spikes you are looking for depends upon the length of hair.
Step 1
For having spikes, hair gel works best on five inch hair, because if you have long hair, it will be difficult for the hair to stand vertically up. So, majority of hairdresser recommended maximum length of hair up to five inches. The three most common types of spikes are: porcu spikes, liberty and twist.
Step 2
If you have less than one inch hair in length, then porcu spikes are best suited for you. if you have long hair and you wish to have porcu spikes, then its not probably good idea. Since, hair gel doesn't work efficiently in holding your spikes.
Step 3
Porcu spikes are the easiest to make and like said earlier you need shorter hair for that. First of all, use water spray bottle and slowly water your hair on different parts of the head. Running your fingers along, then use hair gel that is suited for having spikes and rub your hands all over your head. A better technique for having porcu spikes is that you turn your head upside down and run your gelled hands through your hair, helping them to stand. Remain in this position and let your hair get dry.
Step 4
If you don't like shorter hair and still crave for spikes, then twisted spikes are one for you. First of all, take some water and make your hair wet. Then use hair gel or knox on the part of hair which you are going to spike up. Hold the cluster of hair in your hand and twist them moving your hand in upward direction. helping your hair to stand up. After that, use hair spray all over the spikes to give it a regular strong hold.
Step 5
Wishing for spikes that will almost long for 12 hours? Then, Liberty spikes are best. It is encouraged that you should use hair gel on dry hair, rather than wet hair. Wet hair make your spikes limpy and spikes fall after couple of minutes. Rather than using your hands and rubbing all over your head, it is better that you take handful of strands and gel them up. Though, initially it will take some time for you to get liberty spikes, but with practice you'll be more familiar and in the end it will take maximum two to three minutes. Nonetheless, if you need little water in order to have spikes. Use water sprayer and spray your hair. Then gel them, and turn your head upside down to let it get dry. After that, use lots of hairspray to give final touches to spikes.
Tips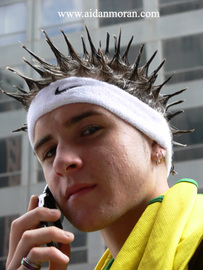 These simple techniques are surely going to to help you your desired spikes style. Apart from using hair gel, hairspray. Number of other products do help in getting spikes. If you are unable to get the desired style then using blow dryer will help you in getting it. Gelatin mixed with water or using school glue for having liberty spikes are equally useful. Use hair gel that is best recommended for having long lasting spikes.
Sources and Citations
http://riotgirlsgermany.tripod.com/id48.html
Comments
Most Recent Articles