Introduction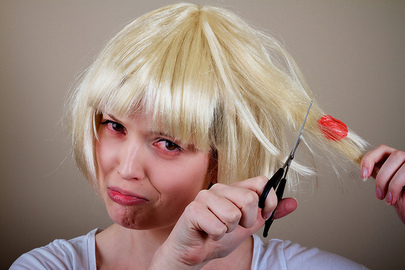 There can be times when a bubble gum gets stuck in your hair. This can happen if you are sleeping with a gum in your mouth and suddenly the gum slips out of your mouth and sticks to your hair, now this sounds stupid but that has happened to a lot of people. There can also be times when you lay down on a place accidentally where a chewing gum has been thrown. Accidents like this happen and when they happen they cause massive disaster for hair. In case of girls hair is the most precious thing and they never want to loose them no matter what but if accidents like this happen you have to make a quick trip to a beauty salon and have to your hair cut from the area where the chewing gum has stuck. Some times when you do this you loose a lot of hair which takes a long time to grow back. There are many home remedies which can help you with getting gum out of hair. A few of the steps to remove gum out of hair are the following;
Step 1
The very first step to get gum out of hair is to purchase smooth peanut butter. You must buy the one which has more oil in it, as the more oil content it has the better the result will be in the end. You will need just 80 grams of peanut butter for this purpose not more than that. You must always try buying the oily ones and avoid buying the crunchy ones as they have lesser content of oil in them and so will not work that effectively.
Step 2
After you have purchased the peanut butter, take it out in a plate and apply it over the affected area, to get the gum out of hair. You can apply this using a toothbrush or even a paint brush; whichever you think is better. Avoid using your fingers for the application of peanut butter as this would only make your task a little untidy and will also not be applied as good as you can with the help of a brush.
Step 3
Once you have applied the peanut butter on the affected area you need to spread over the entire effected region. You need to try dissolving the gum in the oil as this is the main purpose and this will help in getting the gum out of hair. You can do this mixing with the help of a comb or with the back side of a toothbrush.
Step 4
Now that you have done this step you need to take a dry towel and use it to pull the peanut butter out of your hair. This is when the peanut butter comes out of hair along with the gum.
Step 5
Now that you have the gum out of hair you can wash your hair with a good shampoo. Wash your hair thoroughly and rinse it for a few times until you are sure that the peanut butter and the gum are completely out of your hair. You can throw the towel away once you are done or wash it and keep it.
Tips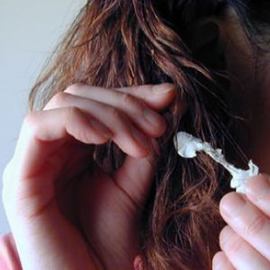 If a situation like this occurs you should not panic and apply the above mentioned steps, to get gum out of hair. Try the home remedies as they are effective and they also do not have any side effects. And in case you are stuck in a position like this never go to a beauty parlor to remove the gum out of hair as they simply cut your precious hair.
Sources and Citations
Own info
Comments
Most Recent Articles